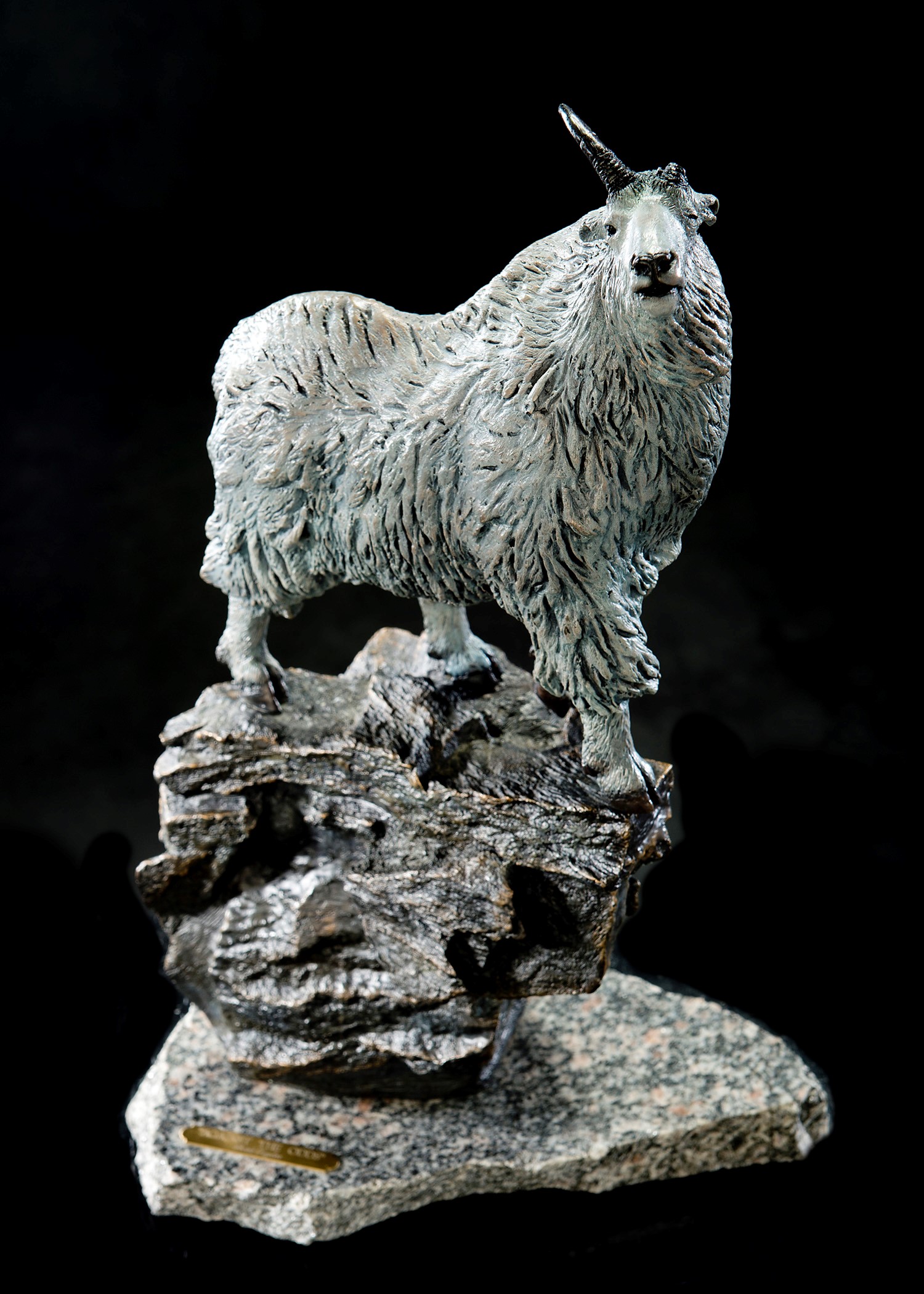 He was a dirty long-haired rough looking fella! Cresting the ridge and looking back at me, I could see that he had recently survived a brutal encounter. The left side of his face was all cut up, his eye closed, his ear torn, and his left horn broken clean off about two-thirds of the way down. This was a Rocky Mountain Billy Goat and he lived in a rugged world. I wondered what had happened. Unlikely that it was a predator attack or a male dominance fight. Probably a fall from a cliff face where these goats climb along amazingly treacherous places. Maybe caught in an avalanche. Whatever had happened, he was headed uphill, and he had survived! This gave ma an idea for a future bronze sculpture.
At the 1989 SCI show in Las Vegas, where I was an exhibitor, I had been approached by SCI President Verne Edewaard, who inquired if I could make a special fund-raising sculpture for his project helping special hunters that still hunt despite physical challenges.
I have hunted extensively, and when physically able (younger) I spent most of my time in the mountains of the world chasing wild sheep and goats. In preparation for these trips, I would hike around the mountains where I live in the Kootenay Lake Valley of southern British Columbia and it was on one of these sorties that I encountered that old injured goat. So, with him in mind, I made a model, molded it, and cast "Against All Odds" in .999 silver. It was sold at the next year's SCI show to a generous supporter of the Special Hunter Program. While it was a one-of-a-kind casting, I also made an artist proof in bronze for myself. It sits above my desk, and to this day is an inspiration about determination and survival.
A few years later I was approached by my friend, Phil Ripepi, who was spearheading a new organization called "The Conklin Foundation". It was to be a tribute to Dr. James Conklin who was an inspiration and mentor to many people about being a fair chase hunter and about taking the hard road for a real challenge. Both Dr. Conklin and Phil's father, Dr. Phillip Ripepi, Sr. had done terms as President of SCI. This Conklin Foundation had a logo of a Suleiman Markhor, and they wanted an annual award for an outstanding hunter, who each year would be judged to have collected extremely hard to get trophies, mostly mountain species, but also a whole range of dangerous game. It was nicknamed the "Tough Guy" award.
I was asked to create a unique bronze sculpture for the award. With the Markhor as the subject, I re-used my concept of a tough old warrior – a broken horned Billy with a damaged eye and ripped ear – climbing upwards, but looking back over his shoulder at that equally tough hunter who was up there on that ridge in his space! Two tough guys looking each other over.
The Conklin bronze has now been awarded to a list of deserving candidates and it is one of the most prestigious awards that could be bestowed upon a hunter, as it is judged by a committee of peers.
I am sure the Conklin mission statement will inspire many hunters to persevere and take that tough fork in the road in search of personal fulfillment, while pursuing that special quarry.
Dream on.
Rick Taylor – Kaslo
February 28, 2022