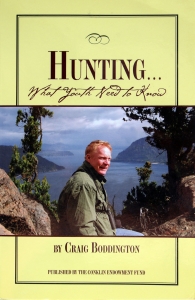 Way back in 2013 our Board of Directors contacted Craig Boddington, a famous and well known outdoor writer and outdoor television activist, and Charles Kirk, at that time a 19 year old famous television guest speaker and founder of Turning Point USA, a national organization of students, to each write a book for youths about hunting, our hunting heritage, and the Second Amendment. Mr. Kirk, now age 26, is on television rather constantly and his youth movement has approximately
600,000 members, almost all college students, and another 200,000 supporters who were in his program and graduated from school. Mr. Boddington has continued a very successful career and reaches out to a large audience all over the country.
Mr. Kirk added a third book a few years ago and these three books, each about 100 pages, were designed especially for young people to know, identify, and understand hunting and the Second Amendment, , plus have information to support such positions.
To date, approximately 175,000 of these books have been sent to youths free with postage paid. The demand is increasing each year with a large number spoken for in 2020.
Craig Boddington's Book is very factual and detailed but written in a way young people could identify. Adults also, especially teachers, find this book very informative. Charles Kirk's two books were written by a younger person with younger expressions and dispelled myths many younger people might have picked up. All three books are timeless to the point when originally written and remain that easy even today.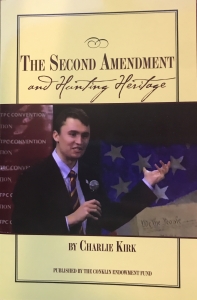 These are three of the very, very few books ever written specifically for young people providing information and facts to support hunting and the Second Amendment and take the offense with true knowledge and confidence against non hunters. These books had been extremely well received and are available today.
The Conklin Foundation is leading the way to make a difference to help young people with facts and information about our hunting heritage and the ability to hunt in the future. Other than operating costs, no Conklin Foundation general funds are spent on salaries, wages, trips, or other "benefit type rewards." The investments by the Conklin Foundation for the last several years, and for a time to come, have centered on free books for youths, including printing and shipping costs, and smaller investments for other environmental needs and specific goals as outlined in our 'Grant" section.
The Conklin Foundation is a tax free 501 (c) organization and welcomes donations for our country's youths.