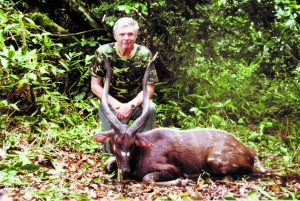 For his commitment to hunt the hardest, most difficult, and most dangerous species all over the world in the most rugged terrain under the most difficult and demanding conditions while maintaining the highest standards of ethics, adhering to the rules of fair chase and showing a true conservation stewardship for the big game animals of the world. The Conklin Award is the pinnacle of Awards, signifying a hunters' hunter, a person who has achieved on a continual basis results that many other hunters might not want to challenge. The Conklin Award is one of the hardest, if not the hardest, of all Awards to win.
Bela was born in Hungary in a small town called Nagysszenas. He graduated from college with a study in food engineering in London and was married in England. Bela has two children and five grandchildren. Eventually he moved back to Hungary
Bela started hunting later in life, and really only started hunting Africa when he was 56 years old. But don't let that intimidate you as he has really collected a large number of species and trophies. He has collected more than 250 shoulder mounts over and above his donation to various local museums of over 180 full mounts.  He founded the Hungarian Chapter of SCI and has won several hunting awards including the Pantheon Award in 2016. He also won the highest Hungarian Civil Award, The Order of Merit of the Hungarian Republic. He has written nine books, organized numerous DVD's, and also made 25 English speaking films mostly about conservation efforts in Mozambique.
It should be mentioned that to win the Conklin Award it is a very objective Award … an applicant's difficult hunting species have to score more than an opponents' with conservation only an accept/fail category.
Bela's vast hunting achievements are recognized by hunters around the world and allowed him to qualify first over a selection of outstanding other finalists for the Conklin Award, Dr. Bradford T. Black, Wayne Farnsworth, Jr., and Mark Hampton.