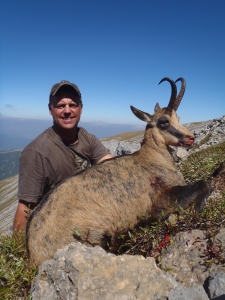 Jay Link has been hunting locally and internationally since childhood. His passion for the outdoors has taken him to all corners of the Earth on hunting adventures. He has been fortunate to have recorded over 400 trophies in the record books and received the SCI World Hunting Award. He is proud to say he is a Hunter Legacy 100 Member, Life Member of Safari Club International, National Rifle Association, OVIS/Grand Slam, Wild Sheep Foundation, Wisconsin Bear Hunters, Boone & Crocket, Ducks Unlimited, National Trappers, Whitetails Unlimited, AOPHA, Seaplane Pilots, International Professional Hunters Association and Rocky Mountain Elk Foundation.
In 2017 Jay Link was awarded the Pantheon Award presented by Grand Slam Club/Ovis and Safari Club International. Jay was the eleventh, and the youngest, recipient of this award which requires an individual to have a Grand Slam of North American Wild Sheep; a Capra World Slam Super 30 of the world's wild goats; an Ovis World Slam Super 30 of the world's mountain sheep; and the Super Slam of 29 North American big game; and they must obtain the SCI's top objective award which is the World Conservation and Hunting Award.
A father of four children (two beautiful daughters and two spirited young boys) family is important to Jay. Each of his children have had the opportunity to travel with and hunt with Jay. Each of Jay's children are nearly as passionate about hunting and conservation as he is. The old saying, "a family that hunts together, stays together", has never been more true when it comes to the value that Jay has instilled in his family. Jay will tell you that some of his most memorable hunting trips have been with his children where their success in the field was more important than any trophy he may harvest.
Jay was the founder of the Lake Superior Chapter of Safari Club International in Minong, Wisconsin; serves on the Executive Committee of Safari Club International; is a Director of Weatherby Foundation International; as well as a member of numerous other conservation organizations locally, nationally, and internationally. Jay is committed to conservation efforts, having first-hand knowledge the important role that hunters play in sustainable wildlife management.
Working in conjunction with the Hunt of a Lifetime Organization, Jay gives back frequently, including his annual disabled youth bear hunts where youth, who otherwise would not have the opportunity come to Minong, Wisconsin, are hosted by Jay and his dedicated team who help a young hunter harvest a Wisconsin black bear. Jay understands that our youth are our future.