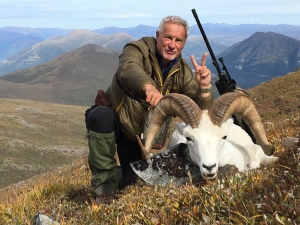 Sergey Yastrzhembsky began hunting in 1996 at the age of 43.  Since then he has hunted in over 50 countries.  He has taken over 170 Conklin animals, which qualified him for winning the award this year.  He is the 20th winner of the "Tough Man" award, named after the late Dr. James Conklin, a Weatherby Award winner, who loved to pursue difficult animals throughout the world.
Sergey was the spokesman for President B. Yeltsin from 1996-2008, and after that the Deputy Head of the Presidential Administration and Aid to President V. Putin.
Since retiring, he has made over 60 documentaries about hunting benefits.  He has received over 20 national and international awards for his hunting and conservation films.  He persevered over the other challenging finalists:  Barbara Sackman, Mark Hampton, Jan Dams, Wayne Farnsworth and Bradford T. Black, M.D.