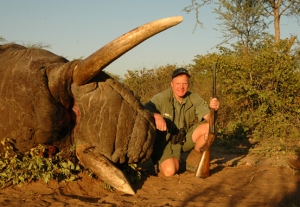 As the 2009 recipient of The Conklin Award, Colonel Craig Thornton Boddington, USMCR (ret) is joining a group of some of the greatest hunters of hard to get species in the world. It has been fifty years since an outdoor writer has received an international big game hunting and conservation award. Warren Page received The Weatherby Big Game Trophy in 1958 and the legendary Jack O'Connor won that honor in 1957. In reality, as an outdoor writer and hunter, Craig stands alone in a class by himself.
Born in Kansas City, Kansas in 1952 to Edward and Jeanne Boddington, Craig's interest in the outdoors was immediately evident. His first exposure was through the Boy Scouts of America where he earned the Eagle Scout designation by age fourteen, received a Silver Palm by age sixteen, and was the youngest activities director at his regional camp by age seventeen. When not participating in Scout activities, Craig could be found hunting or honing his shooting skills. Introduced to hunting at age ten by his father and grandfather, Craig's first quarry was bobwhite quail. Big game would follow with a pronghorn hunt in 1965 along with whitetail and mule deer soon thereafter. Craig's lists the greatest influence on his hunting career by none other than legendary outdoor writer Jack O'Connor, a close friend of his well-known hunting uncle Art Popham.
Craig attended the University of Kansas on a NROTC scholarship and graduated with an English degree, a degree that would serve his future well. While attending college, Craig began his outdoor writing career, submitting articles to various local and national publications. Having received a regular commission in the United States Marine Corps to begin after college, Craig's graduation present was a father and son mixed bag (moose, caribou, and goat) hunt in British Columbia. Arriving in outfitter Frank Cook's camp, Mr. Cook was impressed with the polite and clean-cut American. So impressed that he offered Craig a Stone sheep for a minimal trophy fee. Craig could not pass up the deal and thus started a sheep hunting passion that has yet to be quenched.
Craig continued writing during his active duty but in 1979, with his duty having ended the year before, Craig joined Petersen Publishing Company. During his career with Petersen's (now InterMedia) Craig's hard work and literary prowess enabled him to ascend to the height of his field. He has been a field editor, associate editor, and executive editor for several publications and his writing skills have enabled him to receive many prestigious and coveted literary awards. Craig has authored twenty-one books, thousands of articles, and most recently, Craig has been very active in producing and hosting outdoor television programs. Aside from his immense writing talent, the secret to Craig becoming the most widely read outdoor writer is simple; being honest and humble. As an outdoor communicator for more than thirty-one years, Craig has inspired many hunters to pursue their dreams.
Craig's service record in the United States Armed Forces is not just commendable, it is remarkable. Since his first active service ended in 1978, Craig has been reactivated or recalled to duty no less than nine times, and each time he answered that call with a "semper fi" attitude. His list of decorations is long and amazing. Currently, Craig is retired with the rank of Colonel.
Like his literary and armed forces careers, Craig's hunting accomplishments are voluminous and impressive. In North America Craig has taken all of the huntable big game species except the jaguar, polar bear, and walrus. His record includes many of the toughest species in quantities that show his dedication to challenging hunts. His Grand Slam of North American wild sheep includes four Dall sheep, two Stone sheep, and two Rocky Mountain bighorn. He has taken four American mountain goats, more than twenty Coues deer, three grizzly bear, dozens of mule deer, whitetail deer, and elk, and a very large and beautiful glacier bear. Several of his species qualify for the Boone and Crockett record book.
Craig's Asian shikars have yielded to him a solid amount of trophies including several deer, bear, capra, and sheep species. His love of the mountains is again evident with his taking several ibex, a tur, a Tibetan blue sheep, two Trans Caspian urial, and two Marco Polo sheep. In Europe, Craig has taken almost every species of mountain game, many being very good trophies. Likewise, in the South Pacific, Craig has hunted and taken nearly all of the game from this region in a fair chase fashion. Quite impressive is his taking of two tahr and two chamois from New Zealand without the aid of a helicopter.
Perhaps no sportsman has hunted Africa to the extent and frequency of Craig. He has been on more than seventy safaris and has traversed the breadth and width of the "Dark Continent" in search of adventure and hard to get species. His first safari was in 1977 in the long since closed country of Kenya. This expedition lit a fire in Craig to explore and hunt the game lands of Africa that is inextinguishable. He has been to more than a dozen countries, from Chad to South Africa and from Ethiopia to Cameroon.
Craig's collection of African Big Five species includes fourteen elephant, five lion, six leopard, and more than forty-five Cape buffalo as well as many other buffalo species. He has taken the nine principle species of spiral horned antelope, a feat he has amazingly done twice, with more than thirty specimens of the various sub-species. His spiral horn collection includes four sitatunga, two lesser kudu, two mountain nyala, two Lord Derby eland, a western greater kudu, and two bongo, one of which was taken without the use of dogs. Craig was also fortunate enough to hunt aoudad in its native range of the Ennedi Mountains of Chad. Craig must enjoy the rain forest areas for aside from his bongos, he has taken fourteen specimens of forest duiker of seven different species. He also has two of the sought after yellow backed duiker and the very secretive giant forest hog. His determination is evident in the harshest environments as witnessed by his need to go on two Lord Derby eland hunts to get his first bull and two bongo hunts to achieve that goal.
Craig is the only living outdoor writer to collect each of the African Big Five, the nine spiral horned antelope species, a Grand Slam of North American wild sheep, an Ovis World Slam, and a Capra World Slam. He is the only outdoor writer to have a Triple Slam and to have completed the nine spiral horned antelope twice.
Craig's stalwart commitment to conservation and preserving hunting is very impressive. He is a member of dozens of hunting and conservation organizations, several as a life member, and he has generously donated his time as a volunteer, leader, and guest speaker to each of them. He is a past president of the SCI Los Angeles chapter, current president of The Weatherby Foundation International, board member of the Paralyzed Veterans of America Outdoor Heritage Fund, board member of the NRA Whittington Center, and is a professional member of the Boone and Crockett Club. Among his many awards, Craig most recently received the 2008 C. J. McElroy Award for his service to SCI and outstanding hunting achievements.
Through all of his successes and accomplishments, Craig remains the humble and self-effacing person that he portrays so faithfully in his writing. He still considers any North American deer his favorite animal to hunt and hunts them for pleasure whenever possible. His toughest hunts were his first Marco Polo, his Wyoming bighorn, and his first Lord Derby eland.
Craig has no intention of ever slowing down his hunting schedule, in fact he is busier than ever. It is his way of life and he lives it to the fullest. Craig T. Boddington is indeed a very "tough hunter" and a worthy recipient of the 2009 Conklin Award.