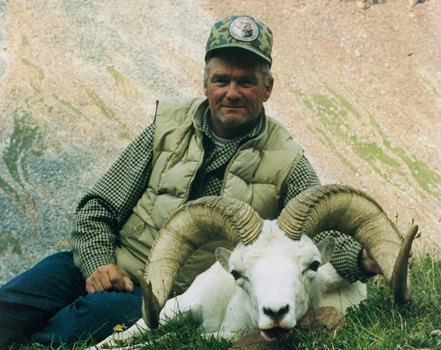 The 2012 Conklin Award recipient took quite a different path to earn the honor of receiving this award. His journey did not begin in earnest until slightly over twenty years ago. But in those twenty years, he has traveled the world in pursuit of some of the most coveted and tough to hunt animals. At an age when most men are content to sit in blinds, Mr. Kenneth L. Barr has been climbing mountains, wading swamps, and exploring rainforest jungles in every corner of the world.
Ken was born on March 20, 1945 in Healdsburg California to William and Norma Jean Barr. The son of ranching and farming parents, Ken learned the meaning of hard work at a very early age. Early mornings and late evenings with all the farm work a young man could handle in between was Ken's daily routine. It gave him an indefatigable work ethic and taught him preparation and patience, all traits that Ken would use in his hunting career. As the family business included prune groves, Ken was also taught how to rid the farm of crop raiding vermin on a year-round basis. An old .22 and an unlimited supply of cartridges donated by his uncle, gave Ken an opportunity and responsibility to begin hunting small game. As Ken became a young man, his opportunities increased to hunting feral hogs and blacktailed deer on the family owned sheep ranch in coastal mountains of Sonoma County with a 03-A3 Springfield 30.06, a gift from his father.
Ken learned his hunting ethics from his older family members, all of which had suffered through the Great Depression, and instilled in him a great respect for the animals one hunts that he still has today. Careful bullet placement as well as how to quickly and cleanly field dress an animal for the family table, were lessons Ken had to learn to perfection in order to be allowed to continue hunting. When Ken took his first blacktailed deer, it set the stage for hunting elephants and lions as a young man's dreams of remote places and exotic game would ultimately come true.
Ken received a BS degree from the University of California in 1968 and soon after began working in the agricultural banking industry. Growing restless and deciding that farming was in his blood with a need to be closer to the land, a desk job did not suit his outdoor spirit or lifestyle. In 1970, Ken moved to Lake County and began a lifelong farming career. In the course of forty years, Ken has expanded his farming operation to become one of the preeminent pear growing and packing companies in California. He has also diversified his crops to include Sauvignon Blanc grapes, which he sells to major California wineries.
In 1969, Ken took his first out of state hunt to Utah for deer with his dad and a lifelong friend. The mountains appealed to Ken and each year he would pursue antlered game in the western mountain states. This streak ended in 1990, when Ken took his first hunt outside of the United States, a hunt in British Columbia. In 1991 he returned to British Columbia for Stone's sheep. To say Ken contracted a severe case of sheep fever would be a gross underestimation. His next sheep hunt was to the Pamir Mountains of Kyrgystan for Marco Polo sheep.
Since 1991, Ken has hunted sheep at a rate that few, if any, can match. Aside from North America where Ken has taken three Grand Slams of wild sheep with an additional three sheep towards future slams, Ken has hunted extensively in Asia. He has hunted twice in China, Turkmenistan, and Kyrgystan, three times in Mongolia and Tajikistan, five times in Russia, and also hunted in Pakistan, Turkey, Azerbaijan, and Iran. On these hunts, Ken has taken twenty-seven different worldwide mountain sheep with a total of forty-eight specimens. He has taken twenty-six different worldwide wild goat species and more than thirty different specimens. All of this in twenty-one years! It was not discovered until recently, but from 1997 – 1998, Ken did something that possibly no one else has ever done. He took twelve different species of wild sheep in a single twelve-month time span.
During this same twenty-one year time span, Ken has hunted the rest of the world with amazing diligence and fortitude. He has completed his collection of the North American 29 and has hunted all of the major and harder to get animals of Europe, South America, and the South Pacific.
Never one to be idle, Ken has hunted Africa on twenty-six different safaris to a dozen different countries. He has the African Big Five with five lions, five leopards, seven elephants, and numerous buffalo of several different species. He has taken the Spiral Horned Nine and lacks only two greater kudu species to have a complete collection of all of the huntable subspecies. His collection includes two Lord Derby eland, two bongo, and each sitatunga species. Two trips totaling twenty-seven days were needed for the Sesse Island sitatunga alone. He has several forest and pygmy duikers including the Bates pygmy antelope, yellow-backed duiker, and the royal antelope. In total he has more than two hundred African specimens, which represent more than one hundred different species. His favorite safaris are in the CAR tracking bongo and in Botswana hunting elephant.
Being raised on deer hunting at home, Ken has always been fascinated with antlers. He hunts antlered game whenever and wherever he can, but he especially loves hunting for Coues deer in Mexico. He considers it sheep hunting "without all the pain" and he hunts these deer on a yearly basis.
Ken has contributed to many worthwhile hunting initiatives and hunting/conservation organizations worldwide. He has funded desert sheep research and surveys in Sonora, Mexico and has made numerous donations to several conservation efforts and organizations. He has indeed given back to the sport he loves and is always eager to encourage young people to get involved in the outdoors. He is a member or life member of more than a dozen hunting organizations.
Quiet and shy, Ken does not trumpet his hunting and conservation accomplishments. Instead, he hunts the animals he likes to hunt and allows his accomplishments to speak for him. Kenneth L. Barr is indeed a very "tough hunter" and a worthy recipient of the 2012 Conklin Award.