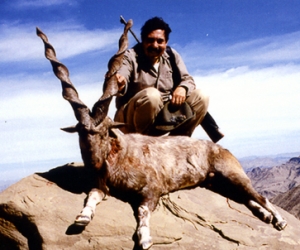 Jesús Yurén was born in Mexico City, Mexico on November 25, 1942, just in time for deer season! The son of Senator Jesús Yurén Aguilar and Blanca Guerrero, Jesús was a determined youth and keenly interested in wildlife from a very early age. His hunting education started as soon as he was old enough to accompany his father (about three years old) on duck hunts in his native Mexico and escalated from that point onward. Small game in the form of doves, ducks, rabbits, and quail were his first quarry, and after conquering this test to the satisfaction of his father, he graduated to his first big game animal, the whitetailed deer at the age of 16.
Jesús's formal scholastic education began with his elementary and secondary schooling in the Colegio Cristobal Colon (La Salle) and ended at UNAM (Universidad Nacional Autonóma de México) where he was a dedicated student and excelled at his studies during his hunting spare time. He showed great promise in his chosen field of engineering. With his degree earned, he started his life-long career as a civil engineer. He formed his own engineering firm, Grupo "Y" and embarked on a path that would take him to the top of his profession. Through his tenacious work ethic Mr. Yurén has developed more than 100,000 home sites and housing projects in Mexico, most for people in the lower income demographic. For his work endeavors Jesús was awarded with the Master de Oro of the Forum de Alta Dirección (Golden Master Forum of High Direction).
In 1966 he married his true soul mate, Pita Baquedano and it wasn't long before they began a family of their own. Their children, Luis, Claudia, and Andres are their pride and joy and the source of their ultimate happiness. In later life and through Jesús's tutelage, all have become accomplished hunters. Luis got his first deer the day before he turned six years old, a black bear at nine, and lion, elephant and buffalo at 16. On that same safari, Claudia (then 15 years old) shot buffalo and elephant and Andres (then 12 years old) shot lion and hippo. Unexpectedly, Mrs. Yurén passed away on January 16, 2005. She was an accomplished hunter, loving mother, and caring wife. She will be missed by many.
With business and family life stabilizing, Jesús began to hunt more often and on a larger scale. It wasn't long before his quest took him to Sonora for mule deer and Coues deer and it is here that he first sampled a hunting terrain that consumes him to this day. In the mountains of Sonora, Jesús found a challenge, beauty, and solace that beckons him to climb after trophies on a yearly basis throughout the world. His first desert sheep hunt in 1972 ignited a passion in him that is indistinguishable. Presently, Jesús has 3 complete Grand Slams of North American sheep with quite a few towards a fourth. His best Grand Slam totals a remarkable 691 aggregate score.
Trips to other areas in North America almost always included mountains and the species that inhabit them. Soon there were few trophies on this continent that he had not hunted and harvested. Two jaguars, three brown bears, a polar bear, a grizzly bear, and two mountain goats, as well as numerous caribou, moose and deer species all found new homes in his Mexico City trophy room. Through hard work and many foot miles, Jesús obtained the coveted North American 29.
He broadened his horizons with a trip to Africa in 1976 to the country of Zambia, where he was understandably amazed at the vast variety of species to be hunted on its beautiful savannas. After harvesting a black rhino to complete the African Big Five (a feat he would do twice), the more inaccessible locales once again called and Jesús answered. From Sudan he took a world record bongo from its rainforest, Lord Derby eland from its brutal savanna land, and two Nubian ibex from its Red Sea Hills. Zambia, Tanzania, C.A.R. and Ethiopia all stamped Jesús's passport with tremendous frequency. The most inhospitable terrain was indeed his calling card.
After mixing in some highly successful trips to the South Pacific, South America, and Europe, the landmass of Asia was left as Mr. Yurén's next trekking destination. He has put his footprint down on that continent like few others. Jesús has taken sixteen different sheep species and ten different capra species from Asia alone. When you consider that he has taken Tian Shan argali, Littledale argali, two Karaganda argali, two Gansu argali, Sair argali, Kara Tau argali, golden takin, a Nepal Himalayan tahr, Himalayan blue sheep, two Bukharan markhor, Sulaiman markhor, and the Chiltan markhor, Jesús is one of the only people who can claim species such as the Marco Polo argali and Altai argali as normal trophies.
In total, Jesús Yurén has taken forty-three free ranging world sheep and thirty-five free ranging world capra.
Along with his incredible hunting accomplishments, Jesús has been a driving force in conservation throughout Mexico. With several other ranch owners, Jesús successfully lobbied his country's government for the re-opening of desert bighorn sheep hunting in Sonora and Baja Sur in the mid 1990s. He was president of Club Safari Mexico from 1979-1983, an organization started before SCI, and founder and president of the Chapter Valle de México of SCI from 1993-1996. Jesús has donated generously to many conservation efforts and organizations. Currently, he personally sponsors college students in various biology departments with tuition scholarships to continue their education with the understanding that they will benefit hunting efforts in the future within their profession.
Mr. Yurén is the Grand Prior (Mexico) of the International Order of Saint Hubertus, the oldest conservation organization in the world, which was incorporated in 1695. In 1986 Jesús was awarded Mexico's highest conservation and hunting honors, being bestowed the Luchador Olmeca Award as well as induction into its Salon de la Fama. In 1995, Jesús won the coveted Weatherby Award and in 1996 the SCI International Hunting Award.
Jesús has authored four hunting books, each in his native Spanish. They are widely regarded as examples of the highest quality outdoor adventure writing. His most recent book, "Song of the Summits", was translated to English and is one of the best mountain hunting books ever written. "Song of the Summits" showcases his talent as a jovial and highly descriptive writer and chronicles his emergence as a mountain hunter from his first desert sheep till the present day.
And he is not done yet! He recently made a third trip to Ethiopia for the highly desirable mountain nyala, one of the few animals that he had yet to take, and was successful. Jesús Yurén is indeed a "tough hombre" and a worthy recipient of the 2005 Conklin Award.