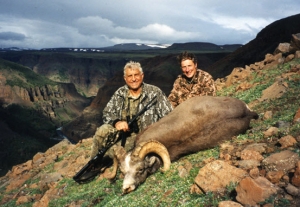 For a man that still resides in the town of his birth, Mr. Pete Papac has certainly been around. Mr. Papac was born on August 15th 1929 in Montesano, Washington to Steve and Katherine Papac. Although he still lives in this same hometown, he has traveled the world and temporarily resided in enough places to simply designate Planet Earth as his address.
The only son in a family with four sisters, Pete was called upon early in life to make sacrifices to assure his family's financial stability. By the time he was 18 years old, he was working full time in the timber industry of the Pacific Northwest. After graduating high school in 1948, Pete made a decision that would alter his entire life. Having been a star football player in the state of Washington, he was offered several athletic scholarships to some very prestigious schools. Instead of further education, Mr. Papac chose to stay at home and continue his career in the logging industry.
Taking a risk has never been a formality that Pete Papac has shied away from and in 1948 he took one and founded Papac Logging Incorporated. Confident in his own abilities and armed with a tireless work ethic, he has never regretted or second-guessed this decision. Through hard work, long hours and a relentless desire to succeed, Papac Logging is one of the most successful privately owned logging companies in its region. His work in the logging industry and leadership skills utilized through the Washington Contract Loggers Association has led Pete to the highest levels of his industry. Pete Papac is a self made man and success story.
Being raised in a family that did not hunt, Mr. Papac was introduced to the sport by his next-door neighbor, Joe Capriotti, in 1947. As a way to put food on the table and stay active in the great outdoors, Pete began hunting deer and elk in Western Washington. As with his work, Pete took to hunting with tremendous determination and resolve. To date he has taken more than twenty trophy Columbia blacktail deer and Roosevelt elk.
Hunting in the Pacific Northwest's harsh environment was a challenge that Pete took up with great enthusiasm. Cold temperatures, rain, snow, wind, and mountain terrain were the conditions that he endured to hone his skills as an outdoorsman and hunter. This experience has obviously served him well in other hunting locales.
In 1950, Mr. Papac's business was doing well and with a few extra dollars to spare, Pete decided to take his first hunting trip outside of Washington, a dream trip to British Columbia, for deer, moose, and mountain goat. Although this trip was very successful, it was many years before he could again indulge his love of hunting big game in different places. Starting in the early 1960s, Pete's trips became more frequent and diverse. Being close to home, his family, and business, British Columbia stayed a favorite hunting destination but after taking several of the species available there, Mr. Papac decided to try something different. In 1967 he took an exploratory hunt in the Northwest Territory for Dall's sheep. This pioneering trip was successful and hunting new areas and specifically sheep hunting, really appealed to his adventurous side.
In 1971 he took a Rocky Mountain bighorn in B.C. and in 1972 a Stone's sheep in this same province. Mr. Papac considers hunting Stone's sheep in the challenging Cassiar Mountains of British Columbia his favorite hunt due to the beauty and ruggedness of the area. To date, he has taken five Stone's sheep. Mr. Papac completed his North American Grand Slam in 1986 with a Utah desert sheep. Some other notable North American accomplishments include four mountain goats, two brown bear, all of the N.A. deer, moose, and caribou (including five mountain caribou), two wolves and two wolverines. Mr. Papac has taken twenty-five of the North American twenty-seven lacking only the Polar bear and jaguar.
Pete took to hunting other locations with the same vigor he had shown in North America. In the late 1970s he decided to explore the hunting opportunities available in Africa and started by hunting some of the lesser known and established countries and tougher species.
Starting with a 1977 trip for Lord Derby eland in the Central African Republic, Mr. Papac has hunted virtually all of the most sought after and difficult species that Africa holds. Zambia followed in 1979 with a successful lion, leopard, elephant, and buffalo hunt and in 1980 and 1981 he hunted Sudan. In this country, Pete became one of a handful of hunters to take a bongo without the use of dogs, a feat he has done twice, and an amazing forest elephant with 113-pound tusks. Ethiopia, Congo, Chad, Tanzania, South Africa, Botswana, Namibia, and Zimbabwe have all stamped Mr. Papac's passport with amazing frequency. In his African travels, he has taken the Big Five including five lions and six elephants, all nine of the spiral horned antelope (a stunning twenty-seven total specimens) including two bongo, two Lord Derby eland, nine bushbuck, and four sitatunga, and ten forest duikers including the rare black fronted duiker. Buffalo hunting is another passion for Mr. Papac as he has taken eighteen Cape, two dwarf forest, two Nile and two central savannah buffalo species.
These tremendous hunting accomplishments are quite possibly eclipsed by Mr. Papac's pioneering efforts in Asia. In 1976 he hunted Mongolia for Altai argali as well as Siberian ibex. In 1983 he returned to Mongolia for Gobi argali and ibex, and 1984 found him in Pakistan for Blanford and Punjab urial and Nepal for Himalayan blue sheep. In 1987 he hunted Dagestan tur in the east Caucasus Mountains. Starting in 1989 he got serious. In a seven-year span he took ten different sheep species and fifteen total sheep. This includes two Marco Polo argali (he considers this the hardest hunt in the world), Hume argali, Karaganda argali, Afghan and Trans Caspian urial, Kuban tur, and Kamchatka, Yakutia, and Putorana snow sheep. For the Putorana snow sheep, he returned four times until successful. In fact, Pete has hunted Russia on no less than forty occasions. Pete was in the first wave of hunters to hunt Tibetan blue sheep, as well as being the first to hunt the Konya mouflon in Turkey, and the first to hunt Himalayan ibex in Pakistan. He has taken twenty-seven species of wild sheep with a total sheep count of thirty-seven. He has eighteen different goats of fourteen different species. Many of his hunts were a first for any American.
Mr. Papac is a member of more than fourteen hunting and conservation organizations, many of which he is a life member. He has led many of these organizations as a board member and president and volunteered considerable time to help them prosper. He has financially supported all of them to a tremendous extent but as an individual, was particularly instrumental in providing the financial support for getting the Konya mouflon sheep program started in Turkey, the Putorana sheep program established in Russia, and a wild sheep and multiple land use study started and completed in Inner Mongolia. This Mongolian project was a joint effort between the forestry departments of Mongolia and China and the University of Montana. This intensive study and its findings, led by Dr. Mike Frisina, were used to educate the individual national governments and local people as to the management needs of the land and its wildlife.
For his hunting and conservation achievements, Mr. Papac was bestowed the Weatherby Hunting and Conservation Award in 1999, the 2004 Safari Club International Hunter of the Year Award, and the 2005 SCI Hunting Award Ring. He has completed thirty-seven SCI Inner Circles and Slams with thirty-four of them at the highest (diamond) level.
Mr. Papac has six children and one-stepson and is still actively hunting with his favorite hunting partner and wife, Virginia. Together they will hunt buffalo in Africa this year with more trips planned to follow. Pete considers his Grand Slam, Ovis Slam, and Big Five his greatest hunting achievements and was in the mountains again last year where he took a Koryak snow sheep only months after major knee surgery.
There is no doubt that Mr. Pete Papac is a "tough guy" and a very worthy recipient of the 2006 Conklin Award.