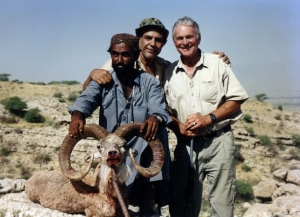 In all aspects of his amazing life, one word would best describe the 2008 Conklin Award recipient, William "Bill" Poole, and that word is determined. Born in Oceanside, California on April 10, 1922, to Herbert and Faye Poole, Bill was the only son with two sisters. After graduating Narbonne High School in Lomita in 1940, Bill immediately enlisted in the United States Navy where he excelled in the field of aviation, teaching aerial gunnery and flight theory. His service ended in 1946 and he went home to once again return to the sea, starting a remarkable sixty-two year career in the sportfishing, marina, and boat building industries of San Diego.
Bill Poole is not considered a pioneer in long-range sportfishing on the West Coast, he is considered the pioneer, a veritable legend! Through his hard work, adventurous spirit, and never quit attitude, Bill built and often times redefined an industry that continues to thrive today. By questioning the "theories of the day" and utilizing his vast knowledge of the sea and his boats, Bill took sportfishing to the extreme. Many followed in his footsteps, but none have ever matched his pace. Determined to succeed, he progressed into marina construction and ownership as his fleet grew, and when he could no longer have boats made by the various boat companies that fit his needs, he started producing his own line of sixty to one hundred twenty foot sport fishers and superior quality luxury yachts.
Bill's hunting adventures started when he was just ten years old, when his father allowed him to purchase his first firearm, a single shot .410. Small game and birds were his first quarry and soon Bill was keen to try hunting bigger game. Encouraged to hunting by his father, who always found time to take Bill and his friends hunting, he took him blacktail and mule deer hunting in 1932. Showing the early signs of his determination, it was not until he was fourteen when he was able to take his first deer. Bill took several bird hunting trips when his military service was over to Canada and Mexico, but it was not until he was in his thirties that he began hunting big game away from home. A caribou hunt in Canada in the 1950s began his travels and he has not stopped since.
Like most traveling hunters, his first hunts were near home with virtually all of his trips from the 50s and 60s being confined to North America. Although Bill's collection of species grew, his determination was again beginning to show as his hunts for mule deer and elk were continuous throughout these years. Bill's love of hunting mule deer and elk is still going strong as he hunts these species every year without fail. It is not simply "meat for the freezer," it is a quest to take larger and larger trophies that drives Bill to hunt and re-hunt certain species. Such is his determination to better his best trophy that often times he has returned home having not fired a single shot. He has been on dozens of elk and mule deer hunts looking to take a bull of 400 B&C or a muley of 200 B&C.
Likewise, Bill has been on more than twenty brown bear hunts and has taken seven brown bear. He is still looking for his honest ten-footer. Bill completed his Grand Slam of North American wild sheep in 1980. He considers his "slam ram," to be the toughest trophy he ever took. This Rocky Mountain bighorn required several trips and fifty-seven hunting days before he found a ram to his liking, a ram that barely misses the all time B&C minimum. A close second place for his toughest hunt would be for his desert bighorn. On one of his four hunts for this species, Bill went without water for almost five days in 100-degree heat. He returned without a ram and lost seventeen pounds in seven days.
In 1965 Bill married his amazing wife Ingrid and together they started a family that soon grew to six children. In 1972 with his business and home life starting to stabilize, Bill took his first trip to Africa, specifically Botswana, where a love affair with the greatest game animals of that continent began and has since flourished. His determination for taking the toughest and greatest trophies is equally evident in Africa. Six lions, four leopards, and more than twenty Cape buffalo have been taken by Bill on more than twenty-five safaris to eight different countries. Lord Derby eland, a bongo without using dogs, a mountain nyala, and many bushbucks and sitatunga are also evident in his trophy collection. The spiral horned antelope are extremely well represented with more than a dozen specimens and many repeated.
Perhaps Bill's greatest show of determination and desire to hunt the toughest species is displayed in his hunting the African elephant in the dense rainforests of Ethiopia. Having loved his two savannah elephant hunts and wanting a bigger bull and challenge, Bill decided to hunt Ethiopia as he felt it held his best chance for a true trophy sized bull. The extreme danger and physical trials of his first hunt only fueled his desire for more adventure and Bill returned to hunt this area five times. His bulls are magnificent with the smallest having tusks of seventy-one pounds each. Bill considers these adventures his favorite place and species.
In 1975, Bill began to hunt sheep on an international basis with his first hunt in Iran. On that hunt, Bill was able to take a bezoar ibex, Armenian mouflon, and a red sheep. Two years later, he went to Mongolia where he took a great Altai argali and Altai ibex, but that was not enough. He returned the next year and took an Altai argali that after thirty-years is still in the top five ever taken by a sport hunter. Sheep and capra hunts in Pakistan, Turkmenistan, Tajikistan, and Russia soon followed and with a similar commitment to the alpine species of Europe, Bill has taken a remarkable amount of mountain animals. To date, he has twenty specimens of fifteen species of wild sheep and seventeen specimens of fourteen species of wild goat.
It would be impossible to write a biography about Bill's hunting career without prominently mentioning his wife Ingrid. Ingrid does not simply accompany Bill on his hunts, she is a tremendous hunter in her own right. She has amassed an amazing trophy collection and hunts because she truly loves the adventure and challenges.
As a conservationist and ardent supporter of pro-hunting and fishing causes, Bill Poole has a track record that is most admirable. He is a progressive leader and has done everything from physical labor to congressional lobbying to support and elevate the image of hunters worldwide. He holds membership in more than forty conservation organizations, being a charter or life member in dozens. Likewise, his financial contributions are astounding.
In 2007, a book was written solely about Bill's incredible life. The book is titled "Fish or Cut Bait" and is a wonderful account of the often dangerous and humorous situations Bill found himself in as a sport fisher captain. The proceeds from this book have been earmarked to go to the newly established non-profit organization, The Bill and Ingrid Poole Foundation. This foundation's was established with a $100,000.00 donation by the Poole's and its sole purpose is to provide fishing and hunting opportunities for deserving youths. Bill firmly believes that good character is developed through an appreciation of the outdoors.
At the age of 85, Bill is not slowing down. In the next twelve months he and Ingrid will be hunting in Cameroon, New Zealand, Mongolia, and as always on their Montana ranch for elk and mule deer.
William "Bill" Poole is indeed a very determined "tough guy" and a worthy recipient of the 2008 Conklin Award.