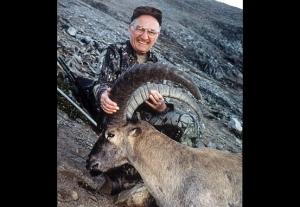 Having the respect of ones peers is the highest compliment that can be bestowed upon a hunter. Perhaps no other hunter has the volume of peer respect rightfully afforded Robert Edward Speegle, M.D. Quite simply, Dr. Speegle is the hunter many hunters strive to become.
On December 2, 1925, Bob was born in Hamlin, Texas into a modest family. While excelling academically, he was still able to find time to hunt the small game of his surrounding area. These carefree days were soon replaced when he responded to the call of his country for service in World War II. Bob was enlisted in the infantry, specifically as a medical corpsman (medic) in a rifle company, where he saw action in the European theater. He performed his duties with distinction and returned home with honor from a thankful nation.
Upon his return home, he applied to and was accepted into medical school at the University of Texas, Medical Branch of Galveston. He graduated in 1951 and continues to practice medicine to this day. Widely regarded for his medical knowledge, Dr. Speegle has been at the forefront of medical technology and patient service since he began his practice. He opened the first fully accredited fifty-bed medical hospital in Garland in 1954 and sold it to a national chain in 1969. In 1991 he transferred his family practice to Primacare and his colleagues purchased the nine Primacare Urgent Care clinics in 2000. Today, they now operate twelve units. In 1959, Dr. Speegle married his lovely wife Linda and together they started a family having two daughters, Melanie Ann and Lisa Lynn. After forty-seven years, Doc and Linda are still married today.
Introduced to hunting by his Boy Scouts troop leader, Dr. Speegle began to rekindle his love for the outdoors as his time and finances would permit. His first big game hunt was in 1957 for mule deer in Colorado and Doc has not stopped hunting since. As with most American hunters, Doc's early hunts were within North America and close to home. Deer, elk, and the more common species were soon taken and the hunts were always memorable. Further destinations soon followed and in 1961 a momentous occasion occurred. Dr. Speegle hunted his first sheep species, a Dall's sheep, in the lightly hunted Yukon Territory. So began a love of sheep and mountain hunting that has never lessened and has rarely been equaled. His first of three Grand Slams was completed by 1969 with his hunts becoming more frequent and farther reaching. During this time, Dr. Speegle also hunted the great bears, cats, moose and caribou and his collection of trophies from his home continent continued to grow. The future would bring him many more North and South American hunts where he would obtain the vaunted North American 29 with a rifle and include some seldom seen specimens such as the glacier bear, Polar bear, Pacific walrus, North and South American jaguar, and the high altitude taruca.
In 1963, a trip to Africa, specifically Kenya and then Tanganyika (now Tanzania) opened up a whole new world of opportunities to Doc. On this 49-day trip he was able to obtain his first Big Five as well as many plains game species. Future hunts in Africa would yield a bongo without the use of dogs, Lord Derby eland, mountain nyala, two Nubian ibex, and dozens of plains game species. Some notable accomplishments in Africa include an eighty-seven pound savannah elephant, eighteen forest duikers, all nine of the spiral horned antelope (nineteen different specimens) and several of the small cats. Dr. Speegle has hunted Africa on more than twenty safaris and has visited thirteen countries, many of which have now changed names. From Ethiopia to Liberia and Egypt to South Africa, Dr. Speegle has covered the length and breadth of Africa and all points in between.
Clearly, the mountain environs are Dr. Speegle's favorite hunting destination and starting in 1970 with a trip to Iran, Doc began hunting Asian sheep and capra species on a scale few have ever matched. Mongolia, Afghanistan, Pakistan, China, India, Nepal, and Russia were all visited frequently by Dr. Speegle and quite often he was a "test case" into these countries and new areas. In total, Dr. Speegle has harvested fifty-six sheep and forty-one capra specimens. Seldom seen species such as two Tibetan argali, the Shapo or Ladak urial, and Himalayan blue sheep from India's Ladak Province, a Marco Polo argali from Afghanistan, a goral from Nepal, and a Pir Pinjal markhor from Pakistan all can be seen in Doc's trophy room. In fact, Dr. Speegle is one of only two people known to have harvested the "Ladak Triple"- a Tibetan argali, Ladak urial, and Himalayan blue sheep from the Ladak Province of India. Not to be left out are his collection of non-mountain species from Asia, moose, roe deer, and maral stag and his impressive collection from India which includes a tiger and nilgai.
Likewise, Dr. Speegle has hunted in Europe taking all of its impressive and desirable mountain game, nineteen specimens in all, which includes an alpine ibex and chamois from Italy as well as another alpine ibex from Switzerland. In the South Pacific, Doc has taken nearly all of the available big game species including a non-helicopter assisted chamois and tahr.
Dr. Speegle's conservation achievements are equally impressive. He is a member of more than twenty hunting/conservation organizations and has held committee positions, board memberships and presided as president in many. Among these, he is a past president of the Shikar-Safari Club International, the American Delegation of the C.I.C., a board member of the Dallas Safari Club, Dallas Ecological Foundation, and the Roy E. Weatherby Foundation. He is also the chairman of the Weatherby Hunting and Conservation Award, Selection Committee and has held that position since 1984. One of his personal conservation projects was done in the early 1970's, donating his time and funding research in Texas for the study and conservation of specific whitetail deer herds. Through his volunteerism, Dr. Speegle has directed literally millions of dollars toward conservation projects worldwide, and from his own personal donations, he has contributed hundreds of thousands more.
Among his hunting accomplishments, Dr. Speegle has more than three hundred twenty-five entries in the Safari Club International Record Book, a dozen in the Boone and Crockett Record Book, and sixteen in the Pope and Young Record Book. He has four Grand Slams of North American wild sheep, twenty-five different species of worldwide wild sheep, and a total of fifty-six sheep. He has twenty-four different goat species and a total count of forty-one. Dr. Speegle was the 1979 recipient of The Weatherby Big Game Hunting Award. In 1986 he was inducted into the Safari Club International Hunting Hall of Fame and received the Dallas Safari Club Lifetime Hunting Achievement Award. In 1991 he received the Safari Club International, International Hunting Award. In 2006, Dr. Speegle was presented the Ovis Award for his hunting prowess of the world's mountain game.
Dr. Speegle considers any mountain game his favorite hunt and the Himalayan blue sheep from Nepal his toughest hunt. He considers his greatest hunting influence the late great outdoor writer, Warren Page for introducing him to international hunting. As for what he considers his greatest conservation achievement, Doc will jovially say, "taking up archery hunting in 1990, because I get skunked so much". He was introduced to archery hunting by two men Doc considers close friends, bowhunting stalwarts Tom Hoffman and Jack Frost, M.D. In 2006, Doc was able to arrow a grizzly bear and wolf in British Columbia and was unsuccessful for the third time in an archery attempt for Stone's sheep. A the age of 81, Dr. Speegle had taken twenty-eight species of the North American 29 with a bow and needed only a Stone's sheep to complete this monumental task as well to complete his first archery Grand Slam and fourth overall. He booked, again, for the entire season in 2007, and was successful.
Dr. Speegle had a wonderful relationship with Dr. Jim Conklin, full of friendship and respect. Their lives were near mirror images, sharing in common service to their country, a medical calling, a love of the mountains, and a deep-rooted conservation stewardship. Robert E. Speegle, M.D. is indeed a "Tough Guy" and a most worthy recipient of the 2007 Conklin Award.