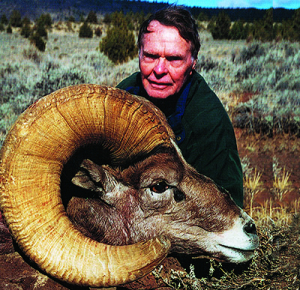 The premier Conklin Award Event was held on April 26, 2002 in Pittsburgh Pennsylvania. It was attended by more than one hundred people, many close friends of Dr. Conklin, from all over the United States, Canada, Mexico, and elsewhere.
This first event was made even more special by the attendance of his family, some informative video presentations, and the room containing several of Dr. Conklin's mounted wildlife trophies.
The first Conklin Award was presented to Mr. Donald G. Cox of Detroit, Michigan for his lifetime dedication of pursuing the toughest to obtain big game animals of the world and his contributions to wildlife conservation. With more than seventy worldwide wild sheep specimens and forty worldwide wild goat specimens, Mr. Cox has certainly hunted the mountains of the world on a scale that is admirable and unfathomable. He has taken the Big Five, the nine primary spiral horned antelope, several forest duikers, and many other coveted trophies. He has hunted extensively in Europe and South America as well, taking virtually all of the desirable game from these continents. Mr. Cox was also a very close friend of Dr. Jim Conklin having shared several hunting camps and aspirations to receive The Weatherby Award, a feat they both achieved. Many of their shared hunting experiences were on "first time" sheep hunts in Asia.
Having donated heavily to many worthwhile international wildlife conservation initiatives, Mr. Cox has also showed a devout stewardship for the wild game of the world. His funding has enhanced the wildlife areas he has visited and benefited the animals he has be fortunate to pursue.
Without a doubt, Mr. Donald G. Cox is a most deserving premier recipient of The Conklin Award.