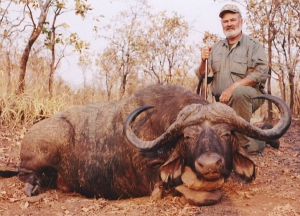 The 2011 recipient of The Conklin Award joins a group of hunters who have sought high adventure worldwide. Their passion for hunting has led them along a path that took them to places that they never dreamed of visiting, hunting animals that are familiar to few. Thomas J. Hammond has earned his place among recipients over the course of a long hunting career that has given him many grand adventures and immeasurable rewards.
Tom was born on May 15, 1943, in Bancroft, Iowa. After moving to Omaha, Nebraska, at an early age, Tom was introduced to bird hunting by his father. Some of Tom's fondest early hunting memories are of hitchhiking, both ways, with an un-cased shotgun to the various bird havens near his home. His hunting progressed to whitetail deer in the river bottoms and woodlots of his home state until 1961 when he entered Creighton University.
Tom graduated from Creighton in 1966 with a business degree (BSBA) and a wonderful young bride, Janet. The young couple moved to Detroit, Michigan, where Tom pursued an MBA at the University of Detroit and deer in the Michigan woods, while working for Ford Motor Company. An entrepreneur at heart, Tom left Ford in 1968 and started his own mortgage business. As his company grew, Tom searched for new ways to grow his business. In 1987, he founded First Security Savings Bank. Through long hours, hard work, and progressive business deals, First Security became Flagstar Bank with Tom serving as its chairman until his retirement in 2009. Never one to be idle, Tom now owns ranches in Texas and Oregon, as well as property in Michigan.
Tom's first traveling big game hunt was a moose/mixed bag hunt in Ontario in 1970. The hunt was a success and since that time, he has hunted Alaska and Canada on more than forty occasions. Multiple trips to the Yukon, British Columbia, Northwest Territory, Nunavut, Newfoundland and his beloved Alaska allowed Tom to amass a complete collection of the game from these regions. Along the way, Tom has harvested all of the huntable species in North America with several duplicates. Numerous elk, whitetail, blacktail, and mule deer, black bear, moose, caribou, and three brown bears now reside in Tom's trophy room. Tom has taken six Stone sheep and five Dall sheep. It was not always easy as these eleven animals took fourteen separate hunts. Likewise, Tom's Grand Slam of North American Wild Sheep only occurred after eight hunts for a Rocky Mountain bighorn.
Tom's first African safari was a trip to Zimbabwe in 1978. Since that time, Tom has taken thirty-six different African safaris in ten countries. He has hunted Tanzania on thirteen occasions, the Central African Republic and Zimbabwe four times each, Zambia, Ethiopia, Sudan, and Cameroon twice each. He was among the first to hunt Ghana and has hunted South Africa on multiple occasions. Hunting Africa is Tom's passion and he has hunts planned for Benin, Ethiopia, and Tanzania for 2011.
Tom's list of big game animals from Africa is simply amazing. He has taken the Big Five with thirteen lions, eleven elephants, five leopards, and more than three dozen Cape buffalo. He has three bongo, three lesser kudu, two Lord Derby eland, three Nile buffalo, each of the sitatunga species, and two giant forest hogs. His spiral horn collection numbers more than thirty specimens. He lacks only a second mountain nyala to complete the Spiral Horned Nine an amazing second time. Tom has spent considerable time and effort hunting the pygmy and forest duikers as his collection includes more than fourteen species and twenty specimens. Tom has also taken the royal antelope and Bates pygmy antelope, along with the yellow-backed duiker and the seldom-hunted Maxwell's duiker.
In South America, Tom has taken most of the game including brocket deer and puma. In Europe, he has taken a majority of the mountain game available including all of the available ibex. Tom has also hunted the South Pacific on numerous occasions and has taken virtually all game available in this region.
Tom started mountain hunting Asia in 1982 with an Altai argali hunt in Mongolia, followed by a Dagestan tur in Azerbaijan. Since then, he has hunted in Pakistan, Armenia, Turkey, Tajikistan, and Russia. He has taken ten species of wild sheep and nineteen total specimens. He has taken thirteen different capra species and a total of fourteen specimens. His future mountain hunting adventures include four hunts for chamois and another Mongolian argali hunt to be completed in 2011.
Throughout his life, Tom has endeavored to help those in need of assistance. In hunting and conservation, this has benefited many organizations and wild game populations. He has financially supported the government of Tanzania and the East African Professional Hunters Association in anti-poaching programs several times. He has also helped support the Community Markets for Conservation program in Zambia, which helps reform poachers. He has also funded projects for the Guyana Fish and Wildlife Department to establish game laws and hunting seasons. Additionally, The Murulle Foundation in Ethiopia has received funding for its mountain nyala studies and vegetation mapping of the Bale Mountain region. Tom is a big believer in the work of John J. Jackson and Conservation Force. He has donated heavily to many of Conservation Force's initiatives. Tom is a life-member of fifteen hunting and conservation organizations.
In 2009, in conjunction with the city of San Antonio, Tom placed nearly 17,000 acres that he owned into a conservation easement that will forever protect this property from major development. This property was being sought for development. Any construction would have ruined its eco-system. This property sits upon the Edwards Aquifer and supplies water to San Antonio.
Tom's hunting future is filled with plans for more safaris and adventures worldwide. He believes that the experience of hunting is enhanced when enjoyed with friends and family. He is constantly encouraging young men and women to give hunting a try. When not hunting, Tom spends time with his three children and nine grandchildren, teaching them to enjoy, love, and respect the outdoors. When the opportunity is available, two of his grandchildren hunt on Tom's property from "dawn to dusk," applying their education of the outdoors to the real thing. Thomas J. Hammond is indeed a very "tough hunter" and a worthy recipient of the 2011 Conklin Award.