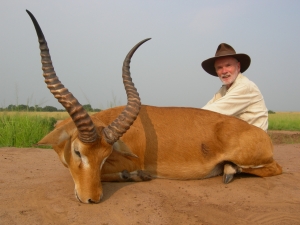 Edward D. Yates lives in the lower Susquehanna Valley in the small town of Wrightsville, PA with his wife, Arlina.  His daughter and eleven year old grandson find it hard to believe that Grandpa is considered a "tough guy" hunter.  To them he's somewhat of a pushover.
Ed comes from a "blue-collar" background, and his father worked on ocean-going freighters.  Because of his father's interest in the sea, Ed sought and received a Congressional appointment to the United States Merchant Marine Academy at King's Point upon graduation from high school.  He postponed attending the Academy in order to go to sea and gain some practical experience.  As an 18 year old, he sailed as an ordinary seaman for Getty Oil Company and his time on the Atlantic was enough to convince him that King's Point and he would definitely not be a good match.
Before long, Ed took night classes in accounting at Wharton School of the University of Pennsylvania and found his occupational niche in life.  Working full-time, his post secondary school education was gained entirely through evening school, where he showed a hunter's toughness by going year-round and never less than three nights a week.  Today he holds degrees from the University of Pennsylvania Wharton School of Business, Widener University, and York College of Pennsylvania.  In addition to his MBA, he is a CPA and has received the Elijah Watt Sells Award from the American Institute of Certified Public Accountants.
Recognizing the importance schooling has made in his life, Ed is currently a long-time trustee at York College and has served three terms on the local school board.  He is also interested in working with children-at-risk and has been a long-term volunteer for Big Brothers.  He has served on the board of Junior Achievement and also volunteered to assist at various Hunter and Trapper Education courses conducted by the Pennsylvania Game Commission.
Prior to retiring in 1998, Ed was the CFO/Senior Vice President of Dentsply International, the world's largest manufacturer of professional dental products.  Ed was instrumental in taking the company public through a reverse merger, and today it is traded on the NASDAQ.  Before becoming CFO, he served in several different positions including Treasurer and Controller.
No one in Ed's immediate family hunts.  His interest in the outdoors comes from the years he spent as a Boy Scout.  The desire to be a hunter came late in life and was sparked by the writings of Robert Rourke, Ernest Hemingway, and others.  Ed's first successful guided hunt came in 1989 at age 46 and was for elk.  Once he retired, his hunting schedule became a bit heavy.  To this day he wonders how his wife put up with it!
Growing up, Ed and his three brothers heard stories of the many exotic lands visited by their father.  Ed didn't know it then, but he would have the opportunity to see many of the same countries, and more, while on almost 140 hunts spanning six continents and 40+ countries.  During these hunts, he has taken 23 different spiral horned antelopes and earned both the OVIS Super 30 and Capra Super 30 from Grand Slam Club/OVIS.   In addition, Ed received the 2011 Weatherby Award, was the 2007 SCI International Hunting Award winner, and was one of two inaugural inductees into the joint GSC/O and SCI Pantheon Award in 2013.
Ed's hunts have allowed him to see the beauty and endless variety in nature of some of the most remote areas of the world, and these experiences have strengthened his faith.  He has also seen the suffering endured by many people and has contributed to numerous missions in third world countries as well as to the needy in America.  His wife's brother-in-law is a medical missionary in Rwanda whom Ed has visited.  This is probably the only non-hunting trip to Africa he will ever take.
Many of Ed's hunts have turned into real "tough guy" experiences.  On the first day of his very first African safari, while pictures were being taken of his impala, he was poked in his eye by its horn and, pirate-like, had to wear an eye patch over his shooting eye while he was stalking a lion.  In retrospect, not real smart!  Fortunately the lion disappeared into the brush.  That didn't discourage him and neither did being chased by drunken cow elephants in Zambia, escaping from a burning hut in Mongolia, or almost sliding off an ice–covered cliff in Alaska.  The hunts have also come at a personal cost.  Ed has permanent heart damage and came close to dying from a tick bite in Cameroon, has been evacuated from a brown bear camp in Alaska due to a badly broken ankle, and is missing a big toe when frostbite turned into gangrene while in the Arctic.  Even with all this, you can't stop him from hunting.
When not hunting big game, Ed still likes being in the outdoors.  At home and in season you could have usually found him in the field with his favorite hunting companion for the last twelve years – his Gordon Setter, Pip, a very stubborn dog who helped to teach Ed the patience he has had to use many times when confronting different cultures and customs. Pip died last June and while Ed still mourns, a new Gordon pup, Doogan, shows great promise.
Ed is a firm believer that it is up to the hunting community to be in the forefront of wildlife conservation.  His support has gone toward local efforts such as the Susquehanna River Waterfowlers Association and the Oakes Museum at Messiah College.  On a broader scale, Ed has contributed to GSC/O, the Cheetah Conservation Fund, and the Murielle Foundation among many others.
On a more personal basis, Ed has helped capture poachers twice in the CAR and once in Cameroon.  In addition for the last several years he has taken disadvantaged local youth through his state's hunter and trapper safety courses.  Ed enjoys being with them when they get their first buck even more than if it was him squeezing the trigger.
Although both James Conklin and Ed are from Pennsylvania, Ed never had the chance to meet Dr. Conklin, but he knew of his reputation as a "tough guy" in the field and a very ethical hunter.  These are the traits that make the Conklin an award that Ed has aspired to since its inception in 2002.  He is very honored to be the 2014 Conklin Award recipient.